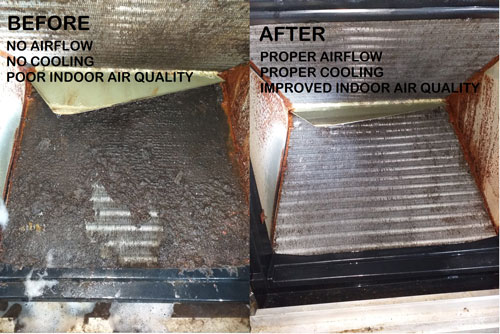 Air conditioners are an important part of many homes and facilities – it keeps us cool and comfortable all year round, while protecting building materials and possessions from moisture damage in our humid environment. However, most folks tend to only pay attention to air conditioners when they start acting up. If your air conditioner breaks down, it might not mean you have to buy a new one right now! Cooling Pros repair service is only a call away.
Once we have performed our Troubleshooting and Diagnostic testing, we can provide repair options with upfront flat-rate pricing. We will explain the choices you have; how effective they will be, and what we recommend for your situation. Whether it's just a band-aid to keep you going in a pinch, or a more in-depth fix for a more long-term solution, just know it is your choice. Upfront pricing means you know what it will cost before we proceed with repairs, versus someone sending you a bill afterward that you had no idea the cost of. Flat rate pricing means that the price will not change if things take longer than anticipated, unlike other companies that charge for time and material with unprofessional servicemen that may take longer only to charge more.
Therefore, you should give over this work to professional company Cooling Pros, which will discover your air conditioner problem and fix it in the best possible way in a short time. Resolve fast any air conditioner breakdown and give yourself, and your people a cool and comfortable stay in a room or office.