CUTTING EDGE DESIGN – TAILORED TO CAYMAN HEAT LOAD – EQUIPMENT SIZING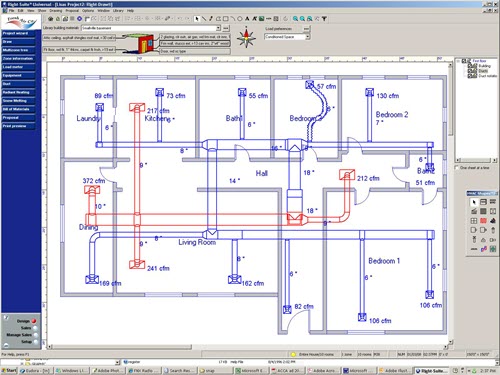 Have you ever heard someone say, "400 square foot per 1 ton of air conditioning"?
Did you know:
• This rule-of-thumb has caused over 75% of homes in Cayman to have air conditioning systems that are oversized by up to 200%.
• Oversized cooling systems cause high humidity, moisture and mold issues because they cool so fast, that they don't have time to dehumidify the indoor air.
• With bigger systems, come larger compressors and motors that require more electrical consumption and cost you more to run.
• Even with the proper heat load sizing, a poorly designed ductwork system can lead to unbalanced air distribution, causing some rooms to be hotter or colder than others.
Over the years, mechanical design has changed drastically, as buildings are being built with better air tightness, encapsulated attic spaces with spray foam and low emission windows that all contribute to your heat load. These are only a few reasons that the old "400 square foot per ton" rule-of-thumb is ancient history, and can leave the consumer with problems that require significant investments to correct. This means you have paid more for bigger equipment from the start, more in operational costs, only to have to spend more to remediate. We don't believe in "more is better", we believe in doing things right the first time.
Read More
VENTILATION REQUIREMENTS
Have you ever heard the following:
• Buildings need to breathe
• How tight is too air tight?
The answers are:
• Occupants need to breathe, not buildings
• Build Tight, Ventilate Right
    Buildings with high amounts of air leakage have "natural ventilation rate" and bring in an uncontrolled amount of unfiltered, unconditioned outside air. This helps dilute CO2 levels from occupants and other airborne gases from cleaning/cooking products, as well as replace stale air if microbes are present. The inverse affect is that hot, humid, dusty, salty, sometimes smokey air can lead to more energy consumption as your system has to remove this extra load, while introducing pollutants that can reduce efficiency and indoor air quality.
The solution is to air tighten your house, and mechanically ventilate on your terms. With multiple ventilation options, we can remove moisture from the outside air, filter out particulates and set ventilation timers based on occupancy load.
EQUIPMENT SELECTION
Once your heat load is determined by ACCA accredited Manual J load sizing formulas, you can choose from various equipment styles, sizing and layouts that fit your exact needs.
Did you know you can have up to 8 zone thermostats on 1 central ducted system? This provides individual room or zone control, versus having to install 2 or more systems that drive up initial cost, operational costs, maintenance costs and may not give you individual room control.
DUCTWORK SIZING AND LAYOUT
Once the equipment is selected, we are able to calculate exactly how much air needs to go to each room, depending on occupant load, area of windows, direction of house and a variety of other factors, so the ductwork is designed to an exact science.
DESIGN SOFTWARE
We are a proud provider of Wrightsoft HVAC system design, the most comprehensive start-to-finish HVAC design tool, providing different equipment options with advanced Energy Modeling to compare initial costs, monthly and/or lifetime operational costs, potential savings and return on investment so you can make the right decision.
Whether you are planning for a new construction build, looking to replace your old air conditioner due to malfunction, or simply wish to upgrade to a more modern and energy-efficient option, Cooling Pros will work with you to assess the needs of your home or business and work to create a custom system design that will keep your spaces comfortable.
Be sure to contact Cooling Pros today for all your mechanical design needs!