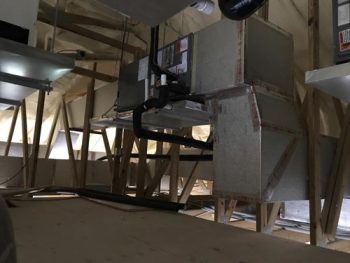 High Quality Installation – Guaranteed
• Does your new construction need air conditioning, ventilation equipment and/or ductwork installation in Cayman?
• Do you want your equipment installed to spec so the system can run at peak performance and efficiency from the start?
• Do you want your ductwork to be air tight so you aren't losing your hard-earned cold air to the attic or unconditioned spaces or pulling hot, humid, dusty unconditioned air straight into your air handler and ductwork?
• Did you know if installation is not done correctly from the start, you can unknowingly be sacrificing energy efficiency, indoor air quality and system life expectancy for your brand-new construction?
These are just a few critical reasons why Cooling Pros is the company you need to call. We pay close attention to details that many take for granted, and take the necessary steps to have everything expertly installed. With a high satisfaction rate in Cayman, we look forward to helping you get a quality air conditioning system expertly installed in your residence or business.
Read More
Cooling Pros new installation package benefits:
• New construction discounts
• Package discounts when combined with Foam Pros spray foam installation
• Breakdown payment options
• 1 Year Labour Warranties
• Manufacturer warranties for up to 10 years for parts and compressors
• 1 Year of free maintenance from the time of start-up
• Auto scheduling maintenance reminders so you don't have to worry about when you are due for service
We understand that with a new place, you want that cool, crisp, new house or business feel, and for your investment to be cost efficient from start to finish, and survive as long as possible. At Cooling Pros, we are here to deliver just that.
Take a look at a list of different equipment and products we offer:
• Ultra-Efficient Variable Speed Central Ducted
• High Efficiency Two Stage Central Ducted
• Standard Efficiency Single Stage Central Ducted
• VRF Technology
• Multi-Split Technology
• Wall Mounted Ductless Mini Split
• Ceiling Recessed 4-Way and 1-Way Cassette Ductless Mini Split
• Concealed Slim Ducted Mini Split
• Ceiling/Floor Mounted Ductless Mini Split
• PTAC (Packaged Terminal Air Conditioning)
• Package Unit Systems
• Commercial Split Systems
Specialty Equipment & Products:
• Air & Surface Purification Technology
• Advanced Electronic Particulate Filtration Technology
• Foam Panel Ductwork
• Fiberglass Ductwork
• Metal Ductwork
• Central Ducted Dehumidifiers
• Fresh Air Dehumidifiers
• Fresh Air Ventilation
• Central Ducted Zoning
• WiFi Thermostat Controls with phone app capabilities
• Door & Window Occupancy Sensors for rentals
• Breaker Panel Sub-Metering technology with phone app capability