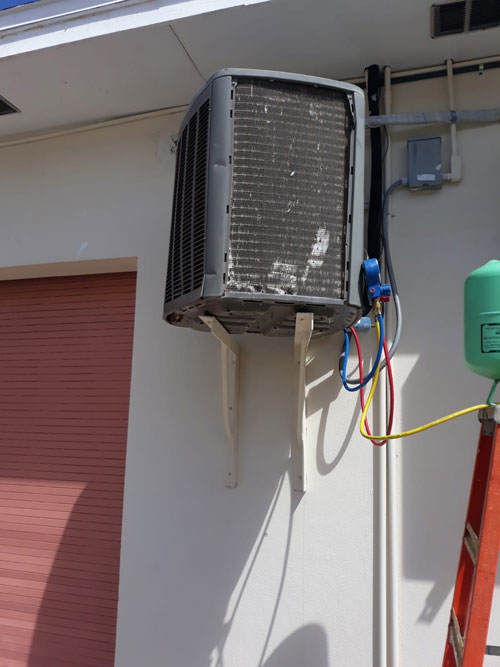 Air Conditioning Replacement in Grand Cayman
Is it time for you to replace your existing air conditioning equipment or ductwork? Whether it be due to malfunction, age and/or condition of your system, you want to choose the right company for your replacement investment.
We all love Cayman for many reasons, but it's a fact that our climate provides very aggressive conditions for mechanical equipment. Being in a tropical climate with a year-round cooling season, our equipment runs all year for longer periods of time, and in harsher conditions than other places in the world.
The constant heat, humidity and salt-laden air, leads to:
• Accelerated corrosion
• Conditions for mold growth
• General wear and tear at rates that exceed seasonal climates.
In other climates people can see 20 to 30 years of average life expectancy for their equipment, while in Cayman we see anywhere from 5 to 15 years life expectancy.
Factors that contribute to life expectancy in Cayman include:
• Proximity to the coast
• Extremity of attic heat and humidity levels
• The temperature that you would like to cool your home to
• Building envelope integrity
• How well your air conditioning is maintained
All these factors contribute to performance, and overtime you could be paying your power company a second mortgage to cool your home.
Read More
When it's finally time to replace your system, know that you have multiple options:
• Different brands that offer different lengths of warranties
• Various efficiency levels that can reduce the costs of monthly and yearly energy consumption
• Completely change the layout of central ducted systems, mini-split systems, mix-n-match
• Downsize equipment
• Consolidate 2 systems that provide 2 zones to 1 system with up to 8 zones and more!
Do not get caught off guard by a failing air conditioning system. If your cooling system were to stop functioning in the midst of the hot summer season, it will not only be extremely uncomfortable, but may also be dangerous as the temperatures inside of your home or business may exceed safe levels.
That is where Cooling Pros can come to the rescue for you. Our fast, professional, and courteous service combine to make us the right choice for air conditioning services in Cayman. Be sure to contact Cooling Pros today so that we can assess your current AC system and provide you with solutions that are specifically tailored to your home or business.