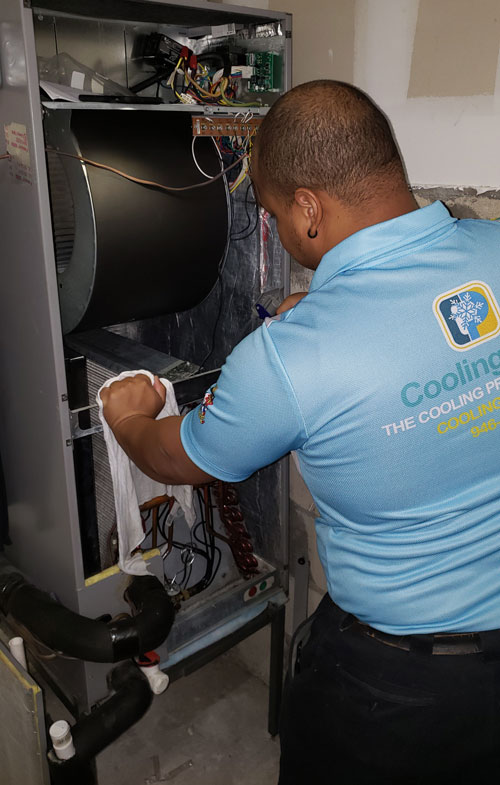 The air conditioning system of your home or office needs regular care to operate optimally, ensuring that you are cool and comfortable at every moment. However, without regular maintenance the following can occur over time:
• Inefficiencies in your system can accumulate
• Energy bills can increase
• The stress of an underperforming system can lead to poor cooling performance and bigger issues
• Bacteria/mold can accumulate beyond remediation and pollute the air you breathe
Cooling Pros is proud to offer regular maintenance to keep your system in tip-top shape. Our team has long-time experience serving both the residential and commercial markets. We offer an extensive, in-depth maintenance service, as opposed to the minimal service of just clearing drains and changing filters that is common amongst other service providers.
Read More
Preventative Maintenance Scope of Works:
• Replace or wash all air filters to maintain indoor air quality
• Clear all drain lines and apply drain treatment
• Clean drain pans of any debris and standing water
• Sanitize indoor evaporator coil
• Wash outdoor condenser coil
• Test and record all amp ratings and actual draw for motors and compressor
• Measure refrigerant levels, subcooling and superheat readings
• Measure temperature split between supply and return air
• Test capacitor(s) if applicable
• Test external static pressure of air handler
• Inspect wiring, contactors and relays
• Inspect condition of air handler cabinet, insulation, evaporator coil and blower assembly
• Inspect condition of condenser coil and housing
• Inspect condition of ductwork system for air leaks, bacterial growth or deterioration
• Take photos of system and store into live software to show and send to customer
• Report any deficiencies or recommendations to improve your air conditioning system performance or indoor air quality
The preventative maintenance from Cooling Pros provides optimized performance, identification of worn parts and malfunctions in the system, indoor air quality analysis and more! Proper maintenance plays an essential role in extending the life expectancy of your investment for the long run.
Preventative Maintenance Agreement Plans
The service agreement plans of Cooling Pros provide great value for every client in Cayman. Benefits include:
• 5% discount off repairs, replacement or installations
• Discounted rate for maintenance
• Priority service over non-contract customers
• Auto-scheduling maintenance reminders for peace of mind so you don't have to remember
With the Cooling Pros service agreement plans, you have the opportunity to gain more than merely the services of an air conditioning company. It's possible for you to save money in the long-term, and to have the peace of knowing that your air conditioning system is under constant attention.
Cooling Pros takes care of both residential and commercial air conditioning systems in Cayman. Our team of professionals is ready to respond whenever you need us.