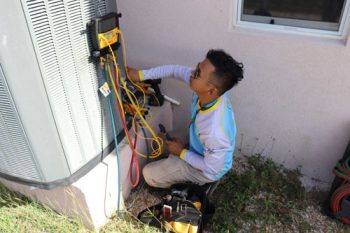 There are few things more frustrating than when your air conditioning system starts acting up, but there's nothing more frustrating than not being able to figure out what the problem is. Sometimes you can have an obvious leak or blockage, but other times it can seem impossible to pinpoint the issue.
At Cooling Pros, we offer Cayman the experience and expertise in air conditioning troubleshooting and diagnosis necessary to find and address problems with efficiency and accuracy. There's no need to deal with another incompetent serviceman or to feel like you're stumbling around in the dark for any longer.
Whether it's be certain rooms that seem colder or hotter than others, high electricity bills, moldy/musty air, or everything just flat out stopped working, we can zero in on the issue and provide multiple solution options. We do so with upfront pricing so you can know what things will cost before approving, versus getting a bill that you didn't expect or approve after someone has made your decision for you. Take control of your decisions with Cooling Pros.
Read More
At Cooling Pros, our professionals understand that accurate troubleshooting and diagnosis is crucial for any AC system that happens to be acting up. There's no use in embarking on costly repairs if the problem isn't correctly identified to begin with, and we like to distinguish ourselves from companies that simply decide on a general fix and hope for the best.
If you're tired of feeling unable to fight the heat in your home or at work, Cooling Pros is ready to get to the bottom of the situation as quickly as possible. With experts who know the ins and outs of cooling systems like the back of their hands and the tools necessary to make troubleshooting and diagnosis easier than it ever has been before, our goal is to save you time, money, and precious air.
So, what are you waiting for? Feel free to reach out to us and talk about any issues that you've been experiencing. We look forward to hearing from you!